Special Feature on "Sector 13"
Reaper's Revenge is already in week four, and the season is moving quickly! In this edition of the "Reaper's Revenge Blog," we are proud to highlight some of the talented individuals that breathe life into the hellacious structure of twisted metal; the science infused fiction-post apocalyptic nightmare known merely as "Sector 13." "Sector 13" is designed to generate fear, and it is unapologetic in its relentless pursuit of attacking those who dare enter its gates, at both a sensory and psychological level utilizing diverse "scare-tactics" ranging from separation to traditional jump and startle scares. The freakish monstrosities and medical experiments gone "wrong" featured in this dungeon of terror are unlike anything you will experience at similar "mutant" or "science fiction" based attractions. Alien-like creatures, mutants the guttural noises alone created by each freak, will forever dominate your nightmares.
"Sector 13" is a custom-built beast, a symbol of post-apocalyptic horror that is brought to life by a talented group of "scare-actors" that create "inhuman" monstrosities each night. Attraction Supervisor Michael Belardi (who also serves as casting director and also serves in essential roles with marketing and social media departments among others), and Actor Trainers Danielle Krescanko, and Steve DeEsch are the caretakers of this facility, and we had the pleasure to speak with Michael, Danielle and Steve regarding their experiences at Reaper's Revenge!
Reapers Revenge Blog (RR Blog):  We would like to introduce and thank the leadership team of "Sector 13," Michael Belardi,  Danielle Krescanko, and Steve DeEsch for their valuable time. We started off the discussion by discussing their backgrounds in the industry.
Michael Belardi (Michael): I have extensive experience in both television and film industry working on numerous high-profile projects as both a cinematographer and camera assistant. I am also the proud owner of "8 Arm Media Group Ad Agency", and have served in numerous leadership, training and management positions.
Danielle Krescanko (Danielle): I began my journey with Reapers Revenge five years ago. I started off as an actor, with my first role being the "Hag" on the "Haunted Hayride." The following season I was transferred to "Sector 13" where I portrayed "Svetlana," a crazy hook wielding nurse in "Lab Two." After two years of acting, I was promoted to one of the Actor Trainers in "Sector 13."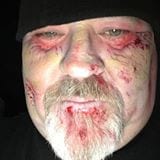 Steve DeEsch (Steve): I have been working at Reaper's Revenge for the past three seasons, and the anticipation for each weekend drives me insane. This is my third year working at Reaper's Revenge, and I started out as a "guard" in "Sector 13" and now serve as an Actor Trainer. This is my first position in the haunt industry, started in "Sector 13" and never left!
RR Blog: What inspired you to work at Reaper's Revenge?
Michael: My career at Reaper's Revenge began because of a movie I worked on in Scranton PA.  A Production Assistant was friends with the owner of Reaper's Revenge, Paul Kotran. Paul had mentioned he needed help running and directing his show. So he put us in touch and the rest is history. 
Danielle: My husband and I had just begun dating. He was an actor at Reaper's Revenge and asked if I'd be interested in acting as well. I'd always loved anything to do with theater and acting. I had a lot of experience from high school and other ventures. I decided to give Reaper's Revenge a shot. I instantly fell in love with the atmosphere and the staff.
Steve: My inspiration was heavily guaranteed; what I mean by that is My wife Alexandra went up to apply for a position. I being, the wonderful husband I am accompanied her on her adventure. During her interview process, a grizzly man walked out of the little shack. He said, welcome to "Reaper's Revenge" thanks for applying. I said "I am here only to bring my wife up. I don't want to do this s**t lol" He said hi I am Michael and I will guarantee you the time of your life if you give it a try…..Yep, so here we are today almost three years later and love it!
RR Blog: How do you approach acting and interacting with customers?
Michael: As far as interacting with customers. We have to shock them. how can we be extreme and safe…. how can we pick up on their fears and play to them…. all while making them go "What in the world did I just see? I approach acting and customer interaction in the realm of how we can all play to each other strengths. We all have strengths and skills and we want to utilize them. So I tend to make sure that I am interacting with an actor in a fun way. I'm loud, crazy, fun, and love to make people react. That's all part of the recipe to train and motivate an actor.
Danielle: My approach to acting and interacting with customers vary by situation and scenes. I try to become whatever character I am portraying at the time. My characters tend to be healthy and loud. I put a lot of energy into my acting. When it comes to customer interactions I definitely feed off of their reaction and try to give them a memorable experience.
Steve: I approach each group differently. I have learned to read the demeanor of a group of customers by giving them a quick assessment while in the queue line.
RR Blog: What is the most challenging aspect of performing at Reaper's Revenge?
Michael:  The most challenging aspect is staffing the mountain and making the show run for several hours at 100% the entire night all while dealing with the small emergencies and problems throughout the night. It's tough… it is not an easy job.
Danielle: The most challenging aspect of performing at would have to be the unpredictable weather. A lot of us are conditioned when it comes to the rain and the cold. We've even worked through the snow a time or two. However, finding creative ways to motivate our actors when the conditions outside are less than desirable can be difficult. We preach that the "warm is in work."
Steve: Weather is the most crucial factor that presents the biggest challenge. We at "Sector 13" are the last attraction of the haunt with that being said when the nights are rainy, cold, snowing, etc. the customers tend just to want to get through the attraction. It is our job to blow them away and bring back the enthusiasm they had when they first stood in the main queue line for the "Haunted Hayride."
RR Blog: What is the most rewarding aspect of performing at Reaper's Revenge?
Michael: The most rewarding aspect is being able to interact with all the wonderful employees and friends at Reaper's Revenge. We build a family here. a judgment-free zone of fun and loyalty. We form bonds with everyone and act like family. I get the chance to inspire and help anyone all while making a big show for the customers.
Danielle: The most rewarding aspect of Reaper's Revenge is absolutely a part of the "Reapers Family."  This was a term I'd heard thrown around on the days leading up to my first night working at the attraction. It wasn't long after that I understood the true meaning of the term. We are just that, a family. We fight with each other, laugh together, cry together, build each other up, and at times tear each other down. In the end, we always band together and love each other — a true family.
Steve: The most rewarding aspect for me is the great closeness as a family that we have at Reapers Revenge. The support staff and actors all pour our hearts into this haunt. Also, after a long weekend, we get to read the reviews from other haunts and rating companies that attend our Haunted theme park.
RR Blog: What is your favorite scary movie and horror character?
Michael: I don't watch scary movies! I live them! hahahahah and I work on them… so sometimes I don't get to watch media like I used to.
Danielle: I've always enjoyed horror movies that are more rooted in reality. Movies that make you really think, "Wow, that could actually happen." I have to admit that one movie that really made me uneasy was "Signs."
Steve:  My favorite horror movies are the classics, movies such as "Burnt Offerings" and "The Shining." I enjoy any movie that portrays "real-life" horror, the stuff that makes you think the horror could really happen. 
RR Blog: Thank you all for your time, and we look forward to seeing the monsters of "Sector 13" in action!
Reaper's Revenge News
Reaper's Revenge proudly supports and promotes a variety of community and charity organizations each season. Once again, Reaper's Revenge has hosted numerous local "dance" performance groups, and we would like to thank the Scranton High School Step Team for their excellent performance!
This Saturday, Reaper's Revenge is happy to welcome guest make-up artist Matt "Phoenix" Limbach/ Matt Phoenix Makeup. Matt has been submersed in the Haunt Industry for over 20 years. He began his journey as a Haunter for the Lansdale Jaycees Haunt House in Lansdale, PA. After moving to Orlando, FL in 2003 he became a Scaracter at the annual Halloween Horror Nights event at Universal Studios Orlando. During his time at Universal, he began assisting and be mentored by notable Body Painter and Makeup Artist, Nix Herrera. We started attending professional Body Paint, Makeup and Haunt conventions throughout the US working with companies such as Wolfe FX and EBA Performance Makeup. In 2013, he returned to PA and kicked off the next phase of his journey. Matt enjoys teaching his passion for makeup and special effects makeup. He can be found teaching private classes and doing stage work at conventions throughout the US. He has worked as Makeup Director for haunts such as The Devil's Theater in Rahway, NJ, and Valley of Fear and The Original Haunted Hayride in Feasterville, PA. Matt enjoys the creativity and freedom that the Haunt Industry allows him in his work as a Makeup Artist
Social Media Reviews of the Week!
"Bianca- Scranton, Pennsylvania – I went last year and this year, and it never ceases to scare and surprise!"
"Marilynn- Scranton, Pennsylvania– The very best Haunted Hayride! And I have been on a lot!"
"Kim- Rockaway, New Jersey– Reaper's never disappoints! we love every minute of it.. actors are great!! staff super nice! hayride is my favorite. you guys are awesome!!"
"Jenna- Palmerton, Pennsylvania– Went here for the 1st time This Place is a Must-Go To Amazing Haunt! Thanks for the Awesome Show!"
Savannah- Downsville, New York– I was nearly scared to death of the clowns! But I really enjoyed getting the life scared out of me! I will definitely go back!
---